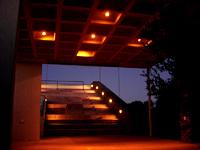 In addition to its role as an astronomical research station, Boyden Observatory also has a Science Education Centre, under the auspices of the University of the Free State and with the support of the Friends of Boyden. Boyden is committed to quality scientific education and facilities to the public, learners and the tourism/conference industry. Visiting Boyden is within anyone's reach - please see information below.
---
SA public and school groups

1 - Come to an Open Evening
Public open evenings are scheduled on a regular basis. Booking is required. Find the date of the next open evening.

2 - Make an arrangement for a group or school to visit the Observatory
Visitors can come to the observatory in organised groups e.g. a congregation, work colleagues, clubs, societies, schools, friends and family etc. A show can include a multi-media presentation, an open sky session outside (constellations & stars) as well as observations through the telescopes, weather permitting. A minimum fee is applicable, or apply for special arrangements. Fees range with the size of the group and the occasion.
Contact Boyden for further information or to make a booking: Dawie van Jaarsveldt at 051-401 2561. Please leave a message if there is no answer.


3 - Host a conference outing or any similiar event at Boyden Observatory
Make your outing an evening (or day) to remember! Boyden's unique atmosphere and facilities provide the perfect setting for any outing. Phone Dawie van Jaarsvedlt at 051-401 2561: leave a message if no answer.